Message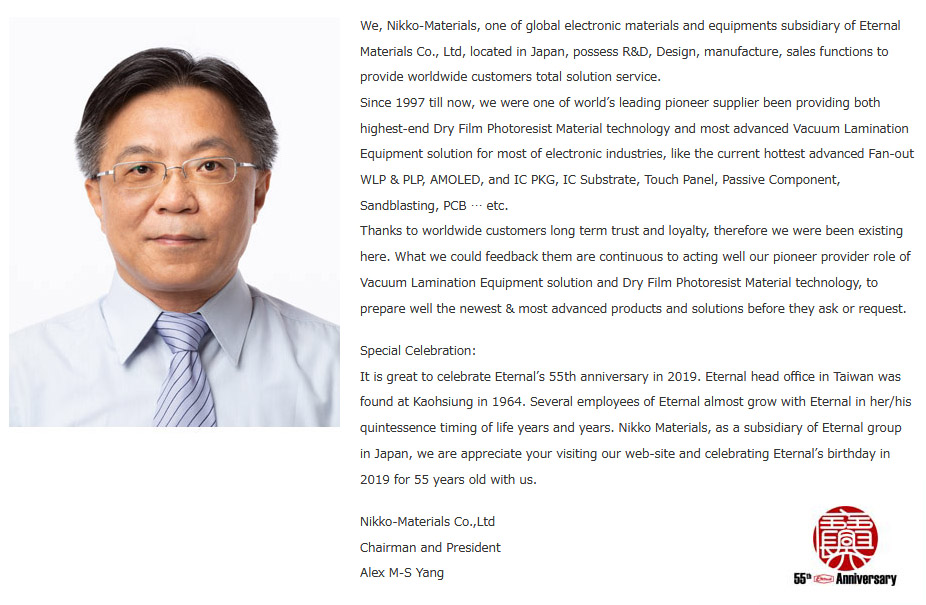 History

 1997
Established as a joint venture between Nippon Synthetic Chemical Industry Co., Ltd. (listed on the First Section of the TSE) and Morton International (listed on the NYSE in the United States).
 1999
Rohm and Haas. (USA) purchased Morton International.
2003
Rohm and Haas. assigned the dry film business to Eternal Chemical (Taiwan). Nichigo-Morton contracted a cooperation agreement with Eternal Chemical.
2009
Dow Chemical (USA). acquired our shares from Rohm and Haas.
2013
Eternal Chemical. acquired 100% of our shares from Nippon Synthetic Chemical Industry. and Dow Chemical.
2015
The company name was changed from Nichigo Morton Co., Ltd. to Nikko-Materials Co., Ltd.
Quality and environmental policy

 ISO9001/ISO14001 Certification acquired

Nikko-Materials Co., Ltd. obtained ISO9001 (Quality Management System QMS) certification in 2002 and ISO14001 (Environment Management System EMS) certification in 2004.
Furthermore, we have completed the transfer of both certifications to the 2015 Version. We endeavor to improve our systems to realize more effective management systems by integrating QMS and EMS into our business processes.

Quality and Environmental Policy

[Basic philosophy]
Nikko-Materials Co., Ltd. provides products and services that make customers satisfaction with know-how gained from many years of experience as a company of process materials such as photosensitive resin film, vacuum laminator and accessory equipment.
In addition, we aim to contribute to the better preservation of the global environment and co-existence with the society including the region through environmentally friendly business activities.

[Behavioral guidelines]
To realize objective based on the basic philosophy, the organization acts with the following action guideline (four priority items).
1) To accurately understand changes in the business and the organization's situation, then to improve and maintain sound business operations.
2) To clarify the scope to be fulfilled by the organization under the business and management in the Eternal Group and to contribute to the business of the entire group.
3) To improve and maintain motivation of employees working in the organization by properly fostering and giving feedback to them.
4) To clarify and comply with the legal requirements of business and management, environment, occupational safety, and corporate ethics.

May 1, 2019
Nikko-Materials Co., Ltd.
Representative Director
Chairman and President
Alex Ming Hsiung Yang
Company overview
| | |
| --- | --- |
| General situation of company | (As of May 1, 2019) |
| Firm name | Nikko-Materials Co., Ltd. |
| Capital | 406,000, 000 JPY |
| Shareholder | ETERNAL MATERIALS CO.,LTD |
| Established | September 30, 1997 |
| Representative | Alex (Ming-Hsiung) Yang,  Representative Director, Chairman and President |
| Fiscal term end | December |
| Number of employees | 61 |
| Headquarters | Concurred Yokohama 5F, 3-1, Kinko-cho, Kanagawa-ku, Yokohama-shi, Kanagawa 221-0056, Japan |
| Description of business | Manufacturing and sales of dry film photoresist, equipments and related products |
| ISO Certification | ISO9001 ISO14001 |
| Main banks | Mizuho Bank and Mitsubishi UFJ Bank |
---

Yokohama Headquarters
Concurred Yokohama 5F, 3-1, Kinko-cho, Kanagawa-ku, Yokohama shi, Kanagawa 221-0056, Japan
TEL:+81-45‐620‐9480 FAX:+81-45‐453‐9480
Five-minute walk from Yokohama Station "Northern Passage East Exit"
on the JR East each line, Keikyu main line, Tokyu A quarter of an hour walk from Yokohama Station
on the Sagami Railway Main Line, Yokohama Municipal Subway Blue Line



We request you to make an appointment before visiting our company.




Please use public transport or a nearby coinoperated

parking space because we have limited parking space.

Ogaki Plant
2-35, Kanda-cho, Ogaki-shi, Gifu-ken 503-0917, Japan
TEL.+81-584-81-4070 FAX.+81-584-74-7280
Kodama Plant
200-11, Oaza-motohara, Kamikawacho, Kodama-gun, Saitama-ken 367-0241, Japan
TEL.+81-495-77-4581 FAX.+81-495-77-4464